PV Module
The solar modules are the foundation to the world's most advanced PV power plants. With a proven performance advantage over crystalline silicon technologies, The CdTe thin film solar modules deliver higher energy yields at elevated temperatures due to a lower temperature coefficient. Beyond temperatures of 25°C, the modules produce more energy for the same nameplate watts and provide stronger plant performance in high temperature climates.
Benefits of advanced thin film solar technology:
Outperforms conventional solar modules with equal power rating
Proven energy yield advantage over conventional solar modules in hot climates
World-record holder for CdTe thin film module (14.4%) and cell (18.7%) efficiency
Manufacturing cost leader at $.68/watt
Smallest carbon footprint and fastest energy payback time of any PV system
Certified for performance and safety according to IEC 61646, IEC 61730, and IEC 61701 (salt mist corrosion)
Manufacturing certified to ISO 9001:2008 (quality), ISO 14001:2004 (environmental) and OHSAS 18001:2007 (occupational, health and safety) standards
Solar Power Plant Plan: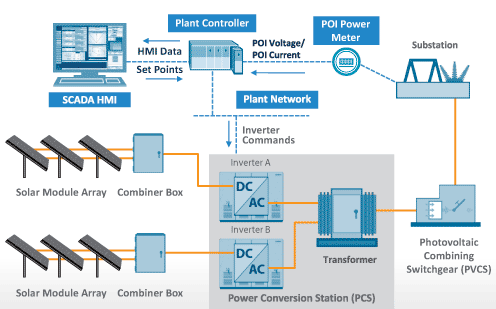 Grid Integration and Plant Control Systems
We offer the most advanced grid integration capability in the PV industry, providing PV plants that actively stabilize the electricity grid and operate more like traditional electricity generation plants. Advanced plant features of our grid integration systems include the ability to regulate voltage, curtail active power when necessary, limit the rate of change of power, prevent trips during faults and disturbances, and react to changes in grid frequency..
Feel free to contact us in case you require any additional details or are interested in Solar Power Systems.
Inquiry